Mothers Union
Bring and Share Lunch
There will be a Mothers Union Bring and Share lunch chez Sue Wilcock on Tuesday November 28th. 2 Rue des Acacias, Floirac, 17120. Please confirm with Karen Burke by 21st November if you would like to join us.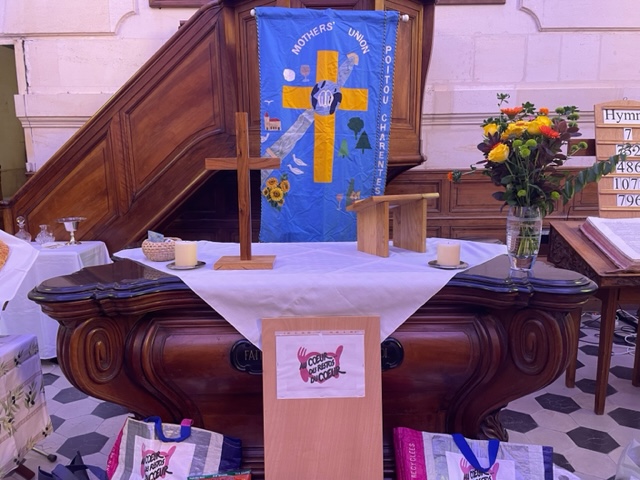 MU Re-dedication Service and Harvest Cognac
This was our Harvest Festival on Sunday October 8th at Cognac. This included our Rededication Service for Mother's Union members and our Warden Wanda McKerchar became a member. It was followed by a Bring and Share lunch. We all had a great time.
Mothers Union Poitou Charentes
Our branch is the only one in France and we would love to welcome new members. MU is present in 84 countries, our members are not all mothers, or even women! We are here to share God's love, by encouragement, support and practical help in family life. We support lots of the work that MU do worldwide. Our branch here in France support the AFIA (Away From it All) holiday scheme, sending a family away for a week's holiday, whom otherwise would not be able to enjoy a holiday. We do a small amount of fundraising for this as well as virtual coffee mornings, bring and share lunches, a quiet day of reflection, and trips out together. We worship together once a year with our MU service where members who are geographically separated meet up to re-dedicate themselves to MU and to their faith through Christ. You can find out more about the work of MU by going to: www.mothersunion.org