Safeguarding
Safeguarding Sundays in our Chaplaincy November 2023
November is the month that we celebrate Safeguarding in our chaplaincies throughout Europe and in the U.K.
This is an opportunity to understand a little bit more about Safeguarding and what we are doing in our chaplaincy.
There will be a dedicated service at Courcelles on the 5th November 2023, and at Chef Boutonne on Sunday 26th November.
If you would like to know more about Safeguarding and how you can help please come to one of our Safeguarding services or speak to Sue Wilcock. Email: chaplaincy.safeguarding@gmail.com
ThirtyOneEight a charity who run our helpline in the U.K. and for our chaplaincies in Europe have this to say:
Justin Humphreys, Joint Chief Executive at Thirtyone:eight, said: 
"While we can't and shouldn't ignore abuse that has happened within the Church, of which there has been plenty of media coverage, Safeguarding Sunday is a chance to shine a light on what so many churches are doing to make places of worship safer. We mustn't forget that protecting vulnerable people is at the heart of the Christian message of justice and hope. I want to thank everyone who is doing this vital ongoing work and taking part in this year's campaign to raise awareness of the importance of safeguarding in their church and community."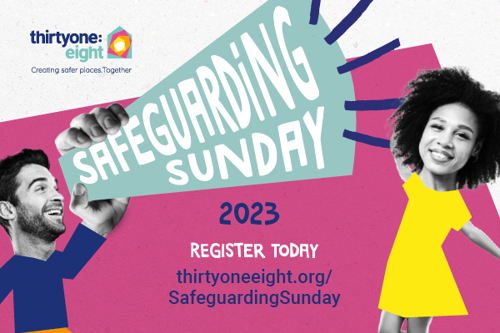 Safeguarding in Our Chaplaincy
The Chaplaincy considers Safeguarding of children and vulnerable adults to be of the utmost importance.
Please contact the Chaplaincy Safeguarding Officer Sue Wilcock with any Safeguarding concerns :
chaplaincy.safeguarding@gmail.com

"The Church of England is called to share the good news of God's salvation through Jesus Christ. The life of our communities and institutions is integral to how we address this task. The good news speaks of welcome for all , with a particular regard for those who are most vulnerable, into a community where the value and dignity of every human being is affirmed and those in positions of responsibility and authority are truly trustworthy. Being faithful to our call to share the gospel therefore compels us to take with the utmost seriousness the challenge of preventing abuse from happening and responding well where it has ."
(From 'Promoting a Safer Church ', The Church of England's Safeguarding Policy Statement)

If you believe that you have information or knowledge of a safeguarding issue in the Chaplaincy which suggests that someone poses a risk of serious harm to others, or that an individual may be at risk of serious harm from others, it must be reported immediately.
You can do this through your
Chaplaincy Safeguarding Officer Sue Wilcock
chaplaincy.safeguarding@gmail.com
or contact the Diocesan Safeguarding Team europe.safeguarding@churchofengland.org
Reporting Line: +44 (0)207 898 1163

Where you are concerned that the person is likely to be in immediate danger, then call the Gendarmes or Police on 17 or 112.